There seems to be much confusion around what the benefits of process mining software are compared to off-the-shelf business intelligence BI and which is more valuable for making business decisions. While there are several good BI tools available in the market today, they all come with a certain set of drawbacks; You need to have a skilled IT person who has experience creating business reports, and that individual needs to have domain knowledge, be a subject matter expert, on the topic of the report or you run the risk of the numbers that get presented not truly reflecting the state of the business and will not help with making fact based decisions.
Searching for the right individual that can help with this task is a challenging and time consuming endeavor, not to mention the fact that most businesses need to be making these decisions now not months from now. Even if you have found the unicorn on staff that can do these things, you are still left with a couple of hurdles:
You are only seeing a small snapshot of the total picture
They leave the business, and you have no one to maintain the reports so you stop using them
Take an example of procurement, and imagine that you are looking to improve this area of your business. You could start by creating a report that shows your total spend by vendor. Now on the surface, this could be valuable and indicate that you should start an improvement project by focusing on the vendor you spend the most with. The reality is that there is a good possibility that this is not the best place to start, maybe that vendor always delivers what you need when you need it. Really what you want to do is a root cause analysis to understand what vendors are causing your business issues, impacting your customers, and your ability to turn products into cash. To do this you need to understand more than just one number, you need to look at the business process end-to-end and truly analyze where the bottlenecks and inefficiencies lie. From there you can make informed data driven decisions on what steps to take to have the largest impact on your business operations.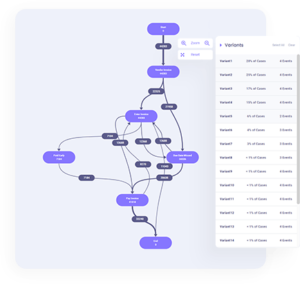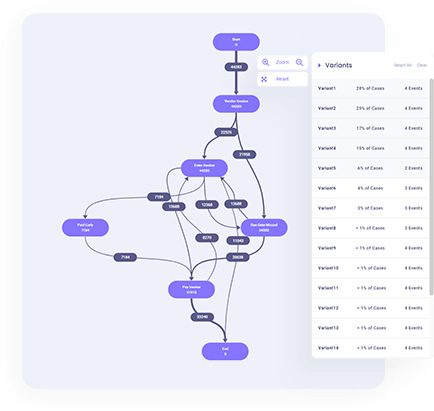 Figure 1: Process Map
This is where process mining technology comes in. What it offers is a new way to look at near real time business data, a complete picture of your business processes and workflow so you can make decisions with all of the information. Through process mining and process optimization tools, you truly understand what projects to take on or where to focus your resources by first seeing how your business actually works and then understanding the return on investment.
These types of process improvement tools leverage the data collected in your ERP, CRM, data warehouse, and other large-scale systems to give you a number of insights that your traditional reports just are not able to provide:
How long activities take which helps identify where the bottlenecks are and for you to determine root causes.
Analysis' come ready out of the box, so you get the benefit of domain expertise without needing to hire another headcount.
User friendly visualizations that analyze key performance areas
Good ones will even provide recommendations that help guide you as to what the data is telling you and what you should do about it.
With the return-on-investment companies are seeing, more and more businesses of all shapes and sizes are investing in digital transformation. The successful digital transformation projects are all utilizing Process Mining Vs Business Intelligence solutions to identify ways to improve their bottom line, streamline operations, improve customer satisfaction, and more. Even as companies look to automation to eliminate routine tasks, process mining tools are playing a larger part to ensure what gets automated will have a meaningful positive impact on the business.
mindzie combines both process mining and bi to provide companies intelligence and process insights to make impactful business decisions.
Learn more at mindzie.com or contact us at info@mindzie.com
James Henderson, mindzie